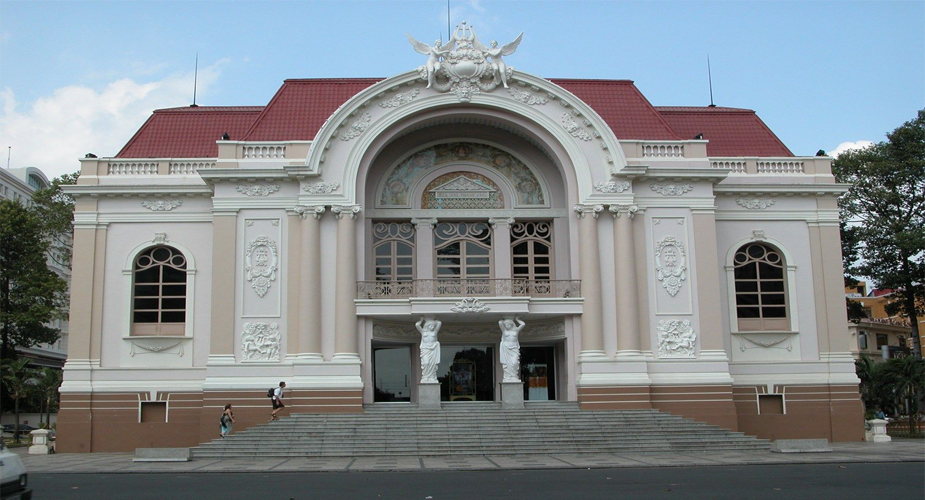 Ho Chi Minh City formerly named and still also referred to as Saigon s the largest city in Vietnam. It is a major metropolitan area with 8 million people. You can find anything right in this city.
Climate
The city has a tropical climate, specifically a tropical wet and dry climate, with an average humidity of 78–82%.The year is divided into two distinct seasons.
The rainy season, with an average rainfall of about 1,800 millimetres (71 in) annually (about 150 rainy days per year), usually begins in May and ends in late October.
The dry season lasts from December to April. The average temperature is 28 °C (82 °F), with little variation throughout the year. The highest temperature recorded was 40.0 °C (104 °F) in April while the lowest temperature recorded was 13.8 °C (57 °F) in January.
On average, the city experiences between 2,400 to 2,700 hours of sunshine per year.
Food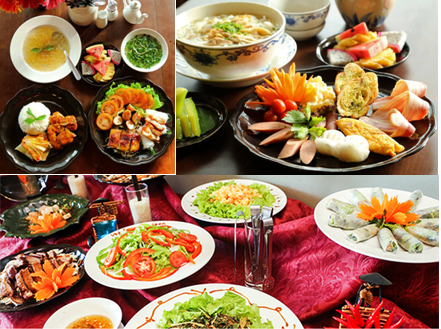 Ho Chi Minh City is an amazing place for a food lover. Not only can one find venders selling regional specialties from all over Vietnam, but the city is home to some truly excellent international restaurants. One is never far from a meal or a snack. With just pocket change, you'll never go hungry. If you want to spend a dollar on a meal you can and you'll leave fairly satisfied. If you want to spend $10, you will dine like a king.
Accommodation
Some students rent pricey rooms in one of the Western-style apartment buildings, but many more rent out Vietnamese houses with other students as roommates. It's also possible to find single apartments in houses that have been sectioned off by floor.
Saigon houses are tall and narrow and generally without windows except in the front, and maybe in the back or on one of the sides. Don't mind the wrought iron bars across your window—those are to keep burglars out and are standard in every house.
Break-ins and robberies are unfortunately common in Ho Chi Minh City, and you should make use of any locks provided and keep windows locked tight when you are out or asleep.
Transportation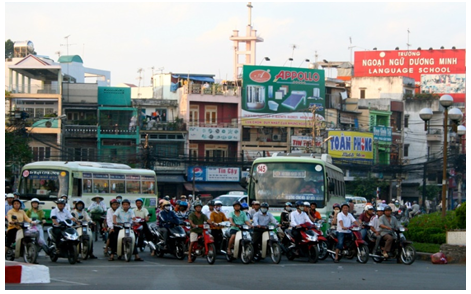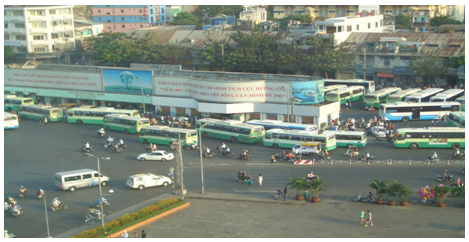 There are over 7 million people in Ho Chi Minh City, and an estimated 3 million motorbikes. It would seem that all of these motorbikes are always on the road, specifically the part of the road you are trying to cross.
There are some other means of transportation you can use such as taxi, bus, train....
Living cost
• Rent: $100-300/month
• Gas, electricity & water: $25/month (depending on usage)
• Mobile+3G: $15-20/month (depending on usage)
• Internet: $15/monthly package (unlimited)
• Food: $100 - 200/month
• Average meal at Western restaurant: ~ $15
• Vietnamese restaurant: $2-$5/dish
• Street food: ~ $1/dish
• Cost for transportation:
Bus-30 cent/ticket
Taxi-50cent/km
Motorbike taxi-30 cent/km
Gas for transport: $1.14-$1.26 per litre (fluctuates)
Entertainment and recreation
Unlike the gentle & classic beauty of Ha Noi, Ho Chi Minh is a dynamic city with a number of entertainment forms, day and night. You can learn about the history of the city by visiting famous museums such as: War Remnants Museum, Ho Chi Minh Museum and Reunification Palace. After visiting the Reunification Palace, you can take a walk around the nearby park to enjoy the warm atmosphere and the special morning coffee of some small coffee shops along the pavement.
Ho Chi Minh City has been called a place for people who love to enjoy the nightlife with many bars, beer clubs as well as street food stalls opening from midnight until the early morning. The backpacker area is a place most foreigners visit because of its energetic, fun environment at night. Offering wide range of beer clubs, bars and small restaurants, this area is the ideal location for parties or chit chat with friends. With all the information provided in Vietnamese and English you can easily order food, drink and other services without confusion.
Outside the city, you can visit Vung Tau beach for tan skin, fresh air and sunshine. Just over an hour's drive from Ho Chi Minh City, you can spend the weekend with friends to relax and experience the different daily life of local people at Vung Tau. The fresh sea food right on the beach is especially good.
Those seeking health activities or having a passion for any specific sport may reach many well-equipped gym with trainers, sports centre where you can play numerous sports (volleyball, basketball, badminton etc.) as well as sports fields for playing soccer inside or around STU campus. Furthermore, there are swimming pools available for students with reasonable price at nearby residences.